Canyoneering Pool Arch Canyon, Moab
Pritchett Canyon ingress, October, 2023
---
We set out just before 7am from Castle Valley and wound our way through the Colorado River canyon back to Moab. There's nothing quite like the sunrise over the red rock desert, with the soft yellow-blue gradient glowing up from the horizon.
We met our guide, Kai from Desert Highlights, at the shop, piled into the company van, and drove out to Pritchett Canyon. The satellite view of the area looks like some kind of trypophobia trigger with countless rock fins oriented toward the river. An endless maze. And that's what I love about Moab. The surrounding canyonlands give you this sense of infinity. You could spend a whole lifetime out here and probably feel like you've barely scratched the surface. It's still possible to stand at the bottom of some canyon where no one's ever stood.
We parked by Kane Creek and then worked our way up the rough road typically used by very adventurous four-wheelers for the Pritchett Canyon Safari route.
Kai took us left off the road and up a nondescript slot canyon where we shimmied up a few narrow gulleys to get the magnificent overlook of Pool Arch, named for the mucky basin of water that collects at its base.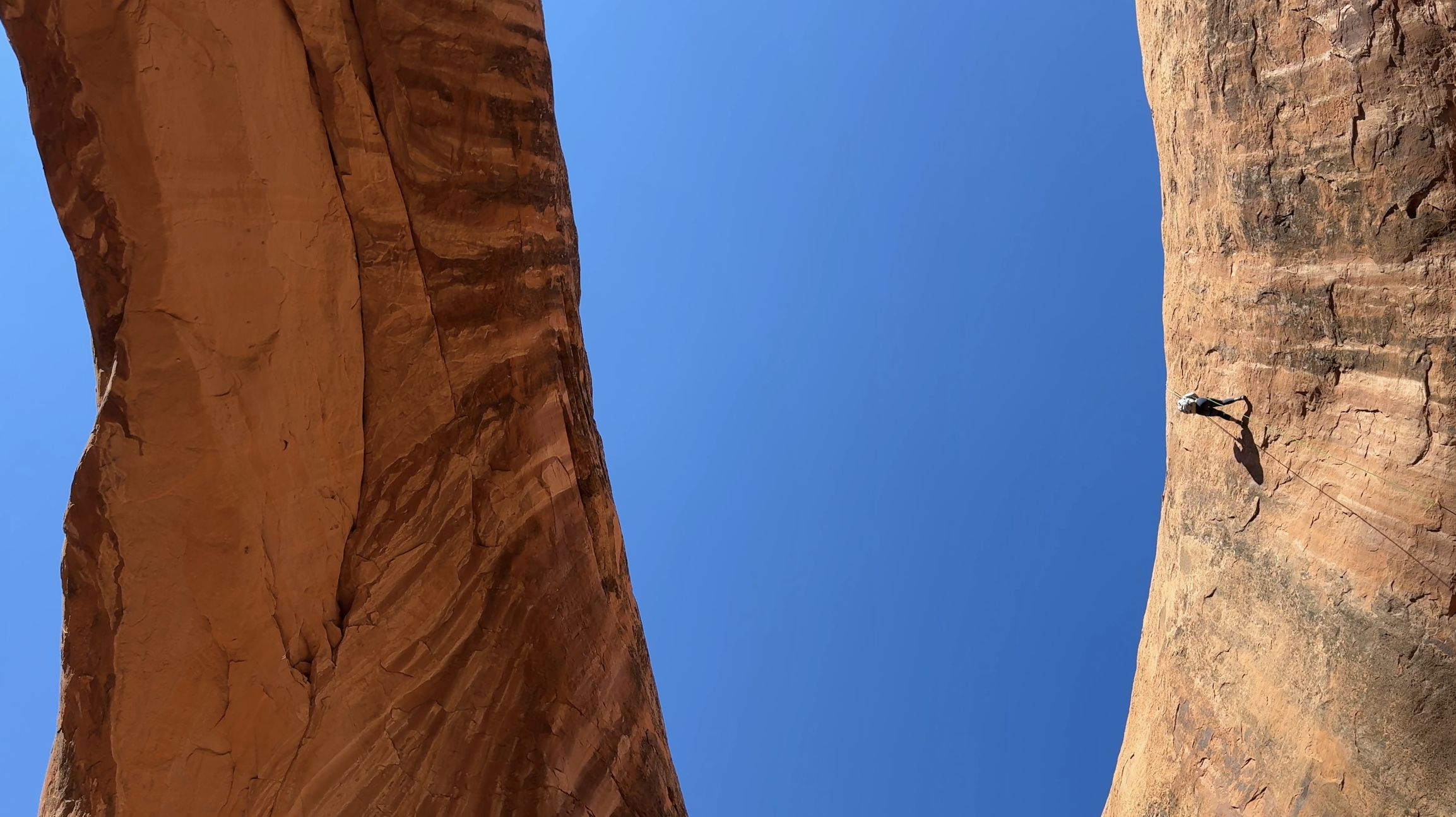 The first rappel is a 140 foot drop right beside the gigantic red rock curve. I'm not gonna lie, the first look at the distance below my feet turned my stomach, but it's funny how quickly you adapt and start to take in the beauty.
The second rappel was a mere 50 feet and felt like a cakewalk by comparison.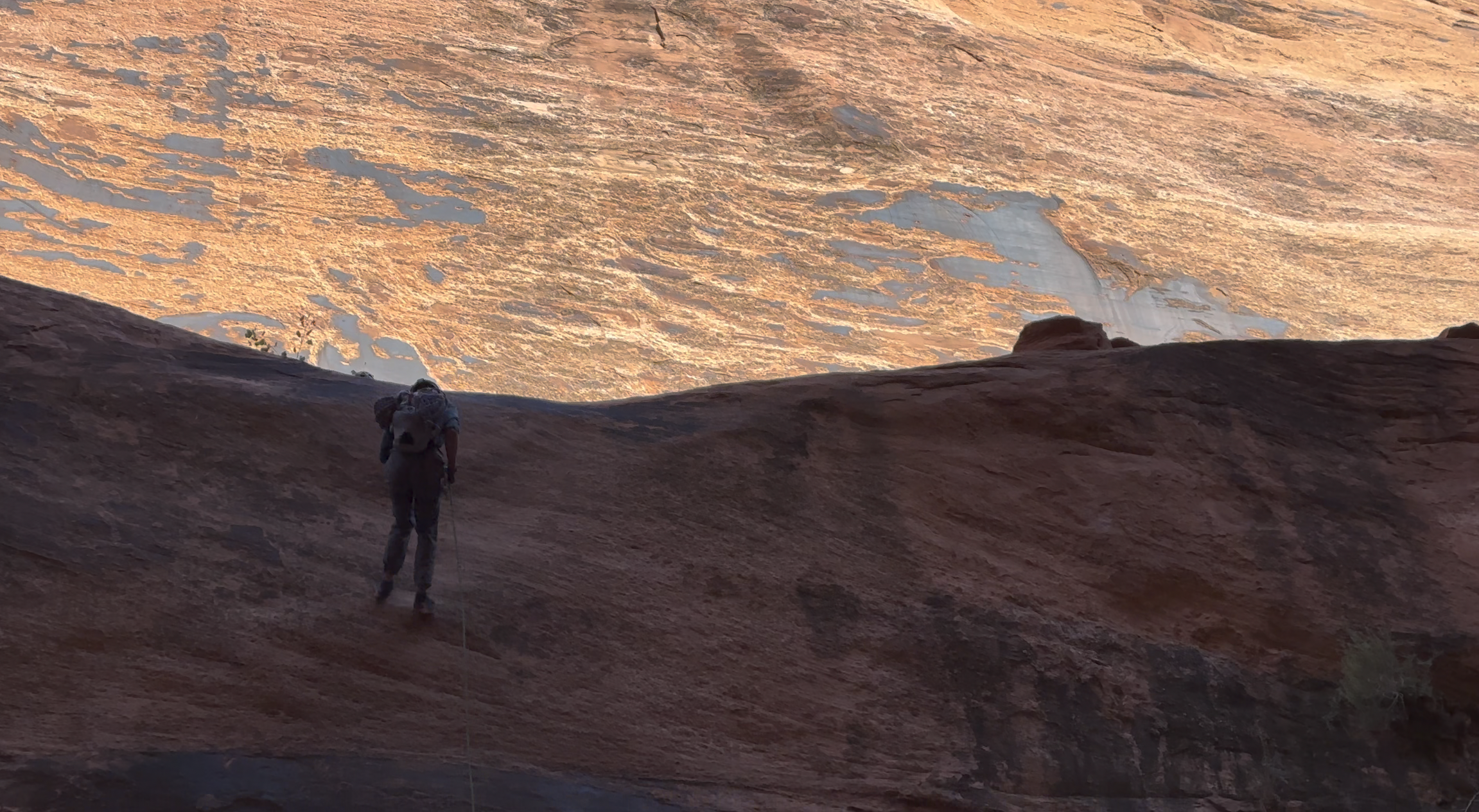 The final rappel, 100 feet, was very nearly my favorite—it's just hard the beat the spectacular descent by Pool Arch. You free hang a lot of this one and descend into a lush, sandstone amphitheater with a view of the canyon stretching out behind you. The landing zone is punctuated by poison ivy, so you just have to navigate around that.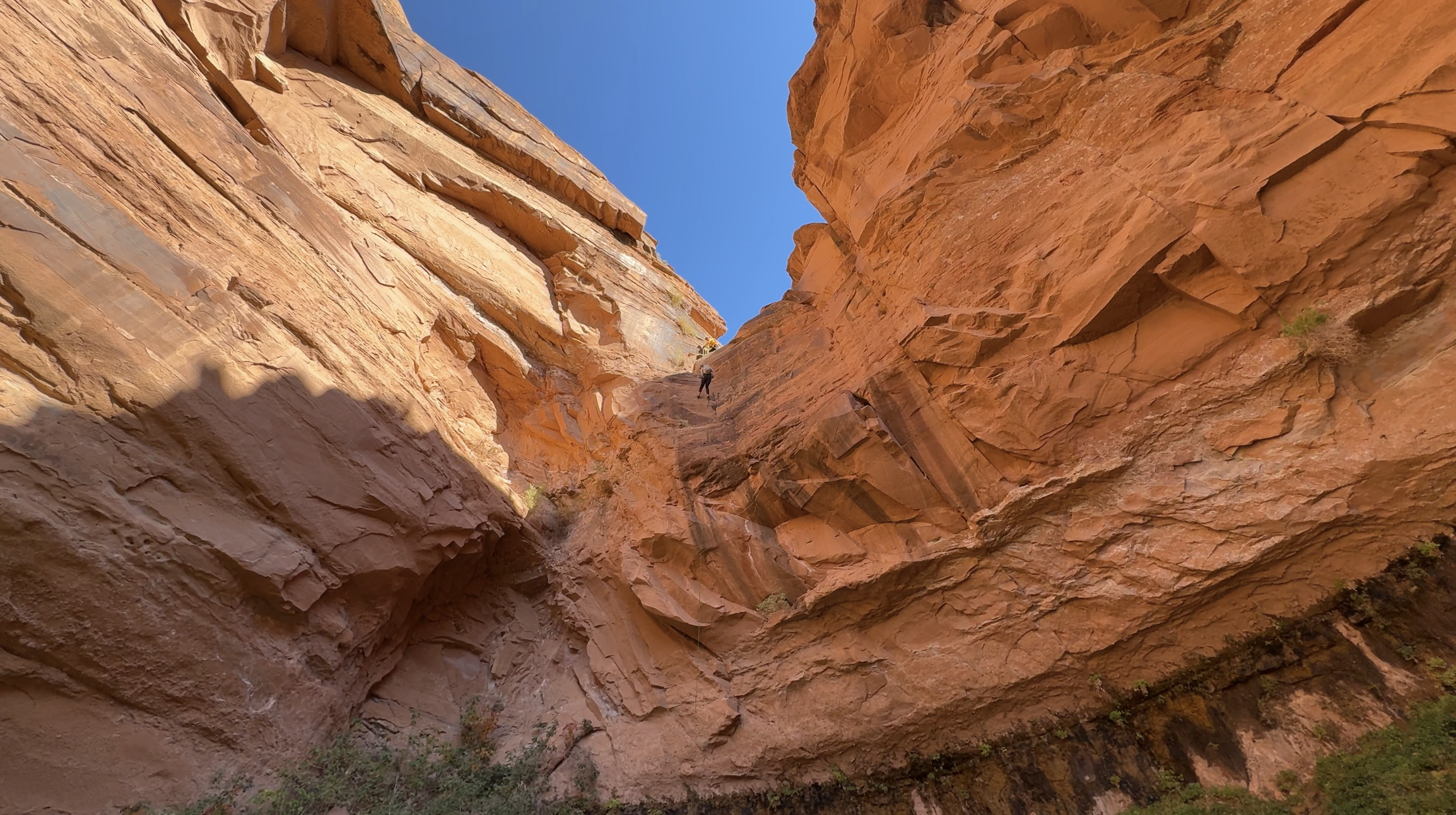 The hike out was the hottest portion of the day. About a mile and a half or so in the direct sun. I wish I'd preserved a bit more water for this section.
This trip was our first real taste of canyoneering and it set the hooks for us. Like whenever I try other climbing-related disciplines, it gave me the itch to become self-sufficient. I could visualize Fiona and I dropping into distant and unnamed slot canyons, and weaving through more of Utah's alien terrain.
Pool Arch is a fairly short day and close to town which makes it a great beginner excursion. We clocked in around 5 miles total and six hours from the guide shop and back. If you're looking for a great lead-in to canyoneering and you're in the vicinity of Moab, look no further and don't forget to tip your guide.