Climbing Mt. Superior, Utah
Incredible views of Little Cottonwood Canyon.
If you find yourself skiing the Alta or Snowbird resorts in Utah and you glance across the canyon, Mount Superior roars up in front of you. It's a big, steep, and unforgiving member of the Wasatch range, topping out at 11,045ft.
I've always been impressed by the bold lines that backcountry skiers take down its south face. Number five on this picture is cheerfully named "Suicide Chute."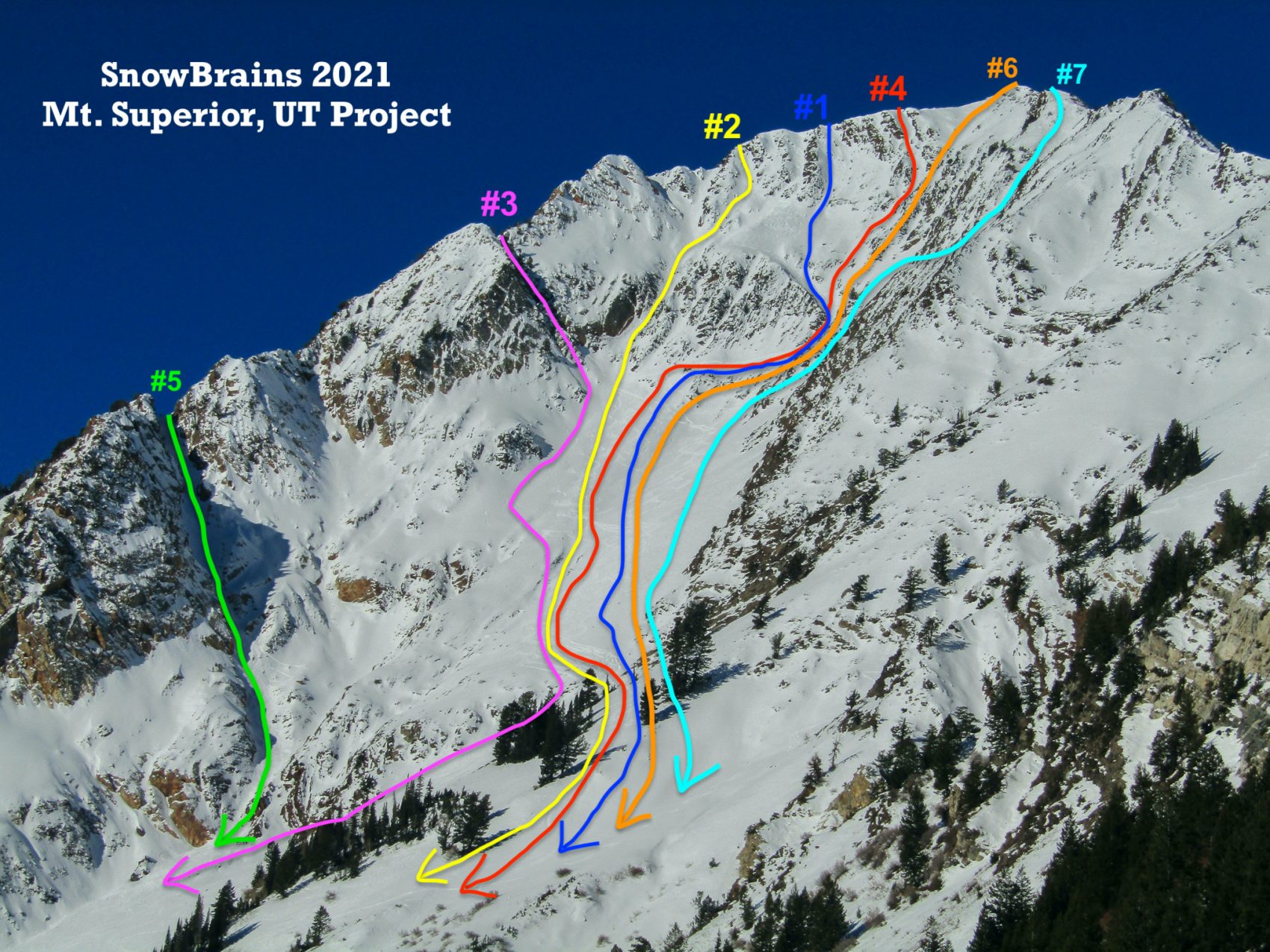 But it hit me a few weeks ago that, in all my years of skiing Little Cottonwood Canyon, I'd never really set foot on the north side. It feels wrong to leave big summits in your backyard unbagged, so we set out to tackle Superior.
There are a couple popular routes to the top: The south ridge (which I've read involves low fifth class climbing, so ropes, harnesses, and cams are a good idea), or by Cardiff Pass (which is what we selected and which gets into scrambly fourth class terrain). Cardiff is definitely the easier route and what I'd recommend if, like us, you find yourself at the trailhead with no snacks and a few bottles of water.
I can't recommend trekking poles enough. You're looking at about 2500' of gain, so the downs are massive, steep and hell on your knees otherwise.
We parked right in between Our Lady of the Snows Catholic Church and The Shallow Shaft restaurant. There are something like five spaces there, but if those are full, there's tons of parking behind the white line most places along the road. To actually start the trail, you follow Michigan City road past the police station until it turns into gravel and, after Upper Guard Road, you keep hanging left at any turns you come across. After this, you switchback up to Cardiff Pass and then traverse west across the ridge, past the Hellgate cliffs, to get to Superior.
The ascent of Superior even from this non-technical angle gets a little scary at times and requires a bit of focus. One fall up here would probably be a bad time, if not be fatal. I kept thinking that I wanted my climbing helmet, since there's a bunch of loose, sharp rock. Not the worst idea to throw that in your bag.
Upon reaching the summit, you're rewarded with gorgeous, 360-degree views of Big and Little Cottonwood Canyons, as well as the Salt Lake Valley. If you have the time, the Monte Cristo peak sits slightly to the West and adds something like 30 minutes roundtrip. However, I was extremely hungry at this point and all we could think about were garlic burgers and beers at Cotton Bottom. We'll tackle Monte Cristo another day.
I noticed these more on the descent (since I get so summit-focused on the climb), but in the heart of the Wasatch summer, you hike through fields of purple Silvery Lupines and brilliant, yellow wildflowers.
There are many worse ways to spend a Sunday afternoon.
See here for a good walkthrough of the approach: